How to Create the Perfect Fall Travel Capsule
The Fall Travel Capsule is my favorite one to create. I am sure it stems from the fact that I grew up in Minnesota and it is my favorite season of all. For me, the fall season is crisp air and cooler temperatures, turning leaves and a warm mug of something delicious.
It is also the perfect time to take a trip. Fall is the shoulder season in many popular travel areas. You will find fewer crowds, lower rates and you get to wear cute fall travel outfits on your trip!
Every trip I take I pack a travel capsule, and this week I put together the perfect packing list of travel clothes for your next adventure, check it out!
What is a Travel Capsule Wardrobe?
The basic gist of the travel capsule is that rather than packing an outfit for day 1, an outfit for day 2, an outfit for day 3, etc….
Instead of doing that you pack versatile pieces that mix and match into different outfits. The base of the wardrobe is a neutral color palette. You add a pop of color with scarves, a top, or a statement piece.
If you are interested in learning more about 54321 and creating travel capsules, check out this post:
How Do You the Perfect Travel Capsule Wardrobe For Fall?
Check the Weather Forecast
The first thing you need to do is know the weather where you are going. Fall can be unpredictable and so having the specifics at the time of your trip is important.
Early fall can bring warm weather, and regardless of when you may encounter rain. Knowing the forecast close to the time of the trip will help you to avoid issues while you are traveling!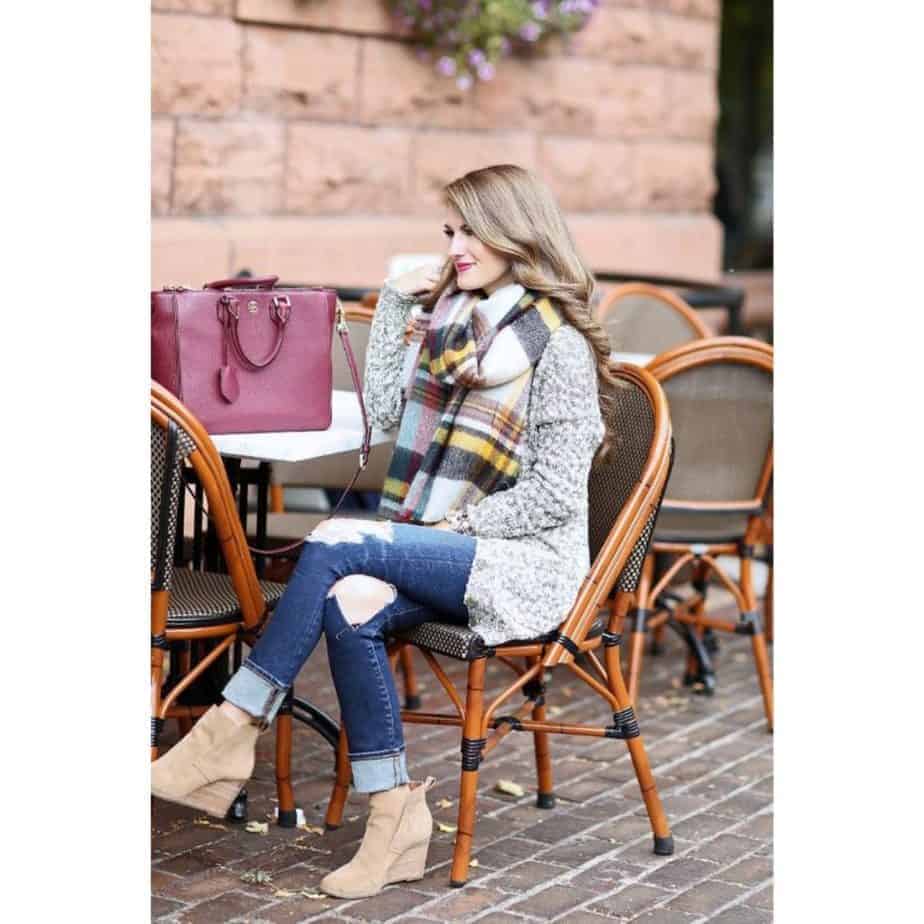 What Activities will you do?
You will want to research your destination to know what types of activities you will do, as this will impact the key pieces you pack. This article will walk you through how I plan each trip I take!
How Long is Your Trip?
As you know, I pack carry on only. Whether it's a week trip or 3 weeks, I bring the same amount. The difference is that I plan to do laundry for the longer trips and make a point of researching where it can be done before I arrive.
As an Amazon Associate, we earn a small commission from qualifying purchases on Amazon, and also from affiliate links from other retailers you may find on the site.
I put together a packing guide and some sample outfit ideas that you can see here. Below this I walk through each section of the 54321 and give some options for you based on this guide.
PRO TIP: On your travel days wear an entire outfit from your packing list. This frees up space in your suitcase and makes carry-on travel easier!
5 Tops for Your Fall Travel Wardrobe
Layering is the key. I usually bring a couple of long sleeve tops, one merino wool black tee, a turtleneck sweater and a cardigan. In this capsule I chose a long cardigan vest that goes well with the tops. On warmer days it can be your outer layer.
A note on merino wool items: merino wool is an amazing travel item. It is naturally antibacterial so it is naturally odor free. That means you can wear it multiple times before it needs to be washed – perfect for carry on travel! Yes, it is expensive, but in my experience it is worth the investment.
4 Bottoms Pants/Skirts/Dresses for Your Fall Travel Wardrobe
For bottoms, I combine pants, skirts and dresses. I don't really wear as many dresses in the fall, and so don't need 3 of them. Plus, I took a trip this summer that included 3 separate dresses and honestly felt like I had way too many clothes. So, for this capsule, I am experimenting with pairing back a touch.
With that, this capsule includes black pants, my favorite jeans, black leggings and a midi dress. The dress is cool because you can wear it with the turtleneck sweater and it looks like a skirt.
You could swap out for a sweater dress or midi skirt very easily. Here are some options for inspiration!
3 Pairs of Shoes Your Fall Travel Capsule
I never pack more than three pairs of shoes for any trip. This one I chose Ankle Boots, White Sneakers and wedge ballet flats. I own all these shoes. The Taos sneakers are super supportive and I have literally worn them to walk all day. The ballet flats have a wedge because the super flat ones do not five me enough support.
2 Scarves for your Fall Travel Capsule
Two scarves are included in this travel capsule: 1 blanket scarf and 1 infinity scarf.
Check this out!To learn a few ways to style a blanket scarf you can see that here!
2 Jackets for your Fall Travel Capsule
For this capsule, I included a casual jacket that can be used in outfits and a weather-appropriate jacket for outdoors. You could swap the Lightweight suede moto jacket for a denim jacket or a leather jacket. And, because weather in fall is unpredictable, a packable rain jacket or trench coat is important.
If you would like more ideas for packable rain jackets you can find them here:
1 Purse
A good crossbody bag is perfect for fall travel. This Travelon is my favorite.
If you are interested in seeing some more, you can see a selection here.
And…Optional thing to bring: 1 Bathing Suit! You never know when you may have a spa to visit!
I hope these fall capsule wardrobe ideas are inspiring for you. Please let me know where you went and what you decided to pack!
We hope you found this blog post about packing the fall travel capsule wardrobe helpful! Please share with your friends on Facebook, Twitter, and Pinterest!