How to Wear a Blanket Scarf: The Perfect Travel Accessory
Wondering how to wear a blanket scarf? It really is the perfect versatile accessory for your travel capsule wardrobe. With seemingly endless different ways to wear it, you'll be able to switch up your outfits while traveling, even when you're packing light and you have limited items in your suitcase.
From casual outfits to dressy evening looks, a blanket scarf makes the perfect accessory to give your wardrobe a little something extra. Keep reading to find out the different ways you can wear one to make your outfits versatile. 
If you are looking for how to plan a travel capsule wardrobe for any length of trip, check out the following post:
What is a Blanket Scarf?
A blanket scarf is basically just an oversized scarf. While some may seem comically large, like the one Lenny Kravitz wears (you know the one), the blanket scarf has become one of those fashion trends that has stuck around over the years. Because they're much larger than a traditional scarf, the ways you can wear them are so diverse which is why they make a great staple piece in cold weather. Blanket scarves are definitely smaller than actual blankets, but this cozy accessory still gives you the feeling of wrapping yourself up. 
What Do You Pair a Blanket Scarf With? 
As I said, a blanket scarf can be dressed up or down depending on your mood. A thin, long scarf is limited but a square or rectangular blanket scarf can be transformed into different articles of clothing like a shoulder wrap or even a skirt if you're feeling creative. Even after years of owning a blanket scarf, I feel like I'm still learning about new ways to wear them. 
One of my favorite ways to wear a blanket scarf is as a part of my winter wardrobe. A cold day under a coat with a simple pair of jeans is an easy style to pull off. Wrapping a blanket scarf around your next a few times is the simplest way to give yourself a little extra warmth and make your outfit look put together. 
How To Wear A Blanket Scarf 10 Different Ways
A Classic Scarf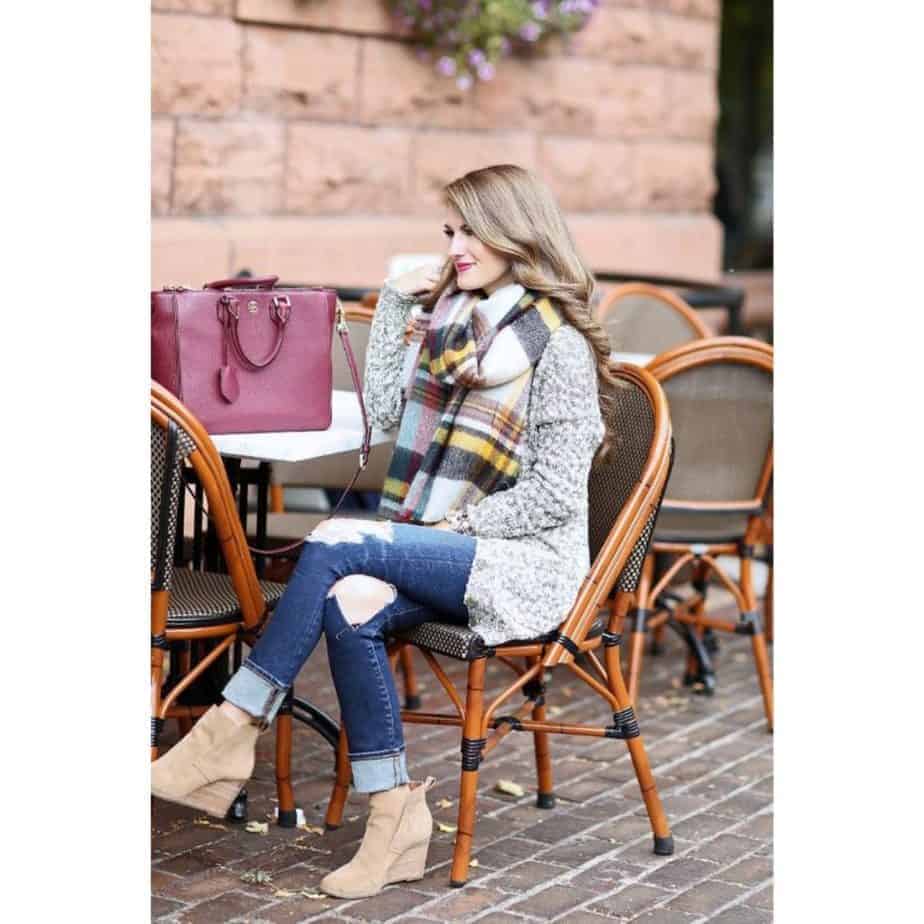 One of the easiest ways to wear a blanket scarf is as a classic scarf. To do this, you'll just wrap one end of the scarf around your neck once so both loose ends hang at your chest and you have one loop around your neck. This is a great way to cover the front of your neck without creating too much bulk underneath a denim jacket or coat. If you feel like your outfit needs a little something extra, this is a great way to take it to the next level without getting too complicated. 
A Shawl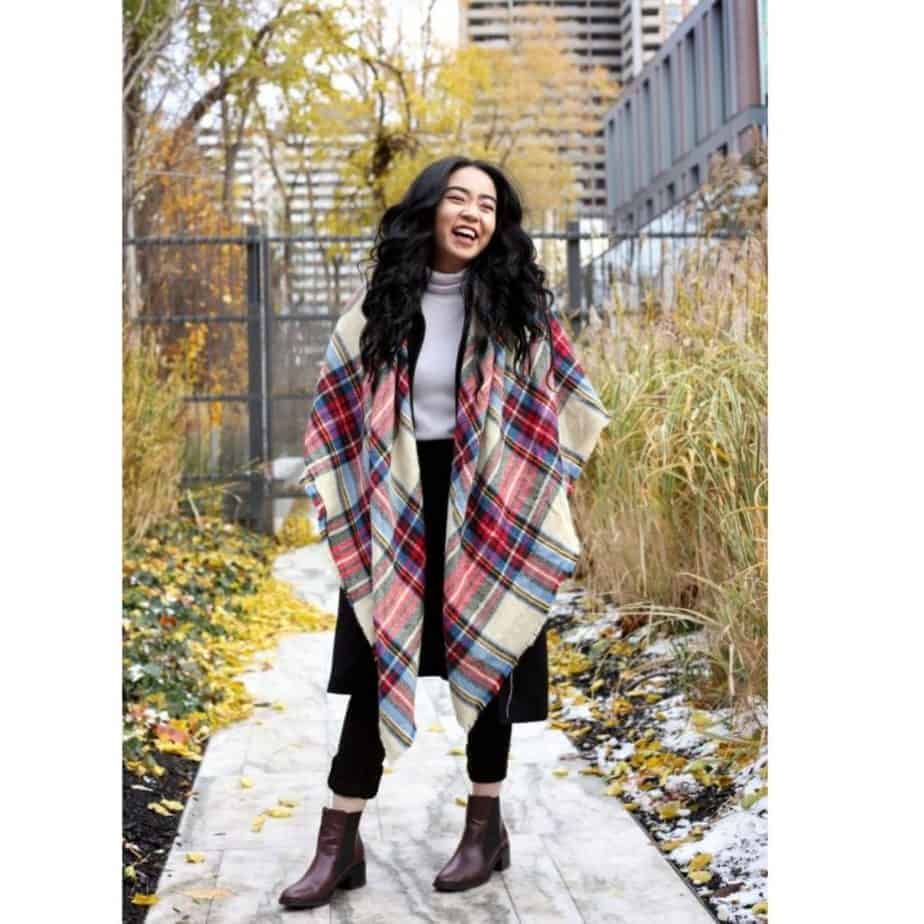 Need to cover your shoulders? Another classic style to try out with your blanket scarf is to wear it as a shawl or shoulder wrap. This is an easy way to make your accessories work as outerwear if you're strapped for room in your suitcase. If you're wearing a nice dress to dinner but don't want to cover it up too much with a bulky coat, use your scarf to keep warm and look stylish at the same time. 
Under A Coat 
Creating a layered look is a simple way to make your street style look more cosmopolitan and curated. On days when it's not so cold, you can create this look but draping a blanket scarf around the back of your neck and throwing a coat over it. The scarf will hang past your hips and give your outfit an effortlessly stylish look without having to put much effort in at all. 
An Infinity Scarf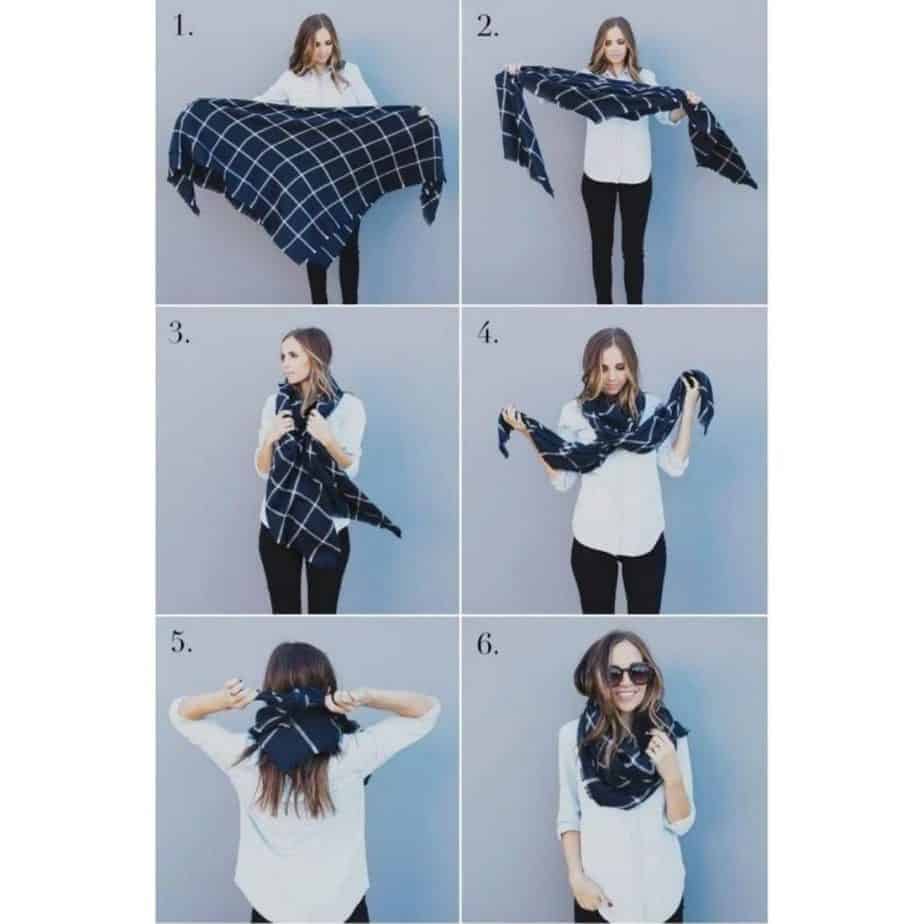 Actual infinity scarves can be challenging to get just right because two loops always seem too tight but once isn't enough. To create the infinity scarf look with your square blanket scarf, just tie the ends together and loop it around your neck like you would any other infinity scarf. I try not to double knot the end of the scarf because it can get knotted too tightly and can be difficult to untie the next time you want to switch up the style.
A Vest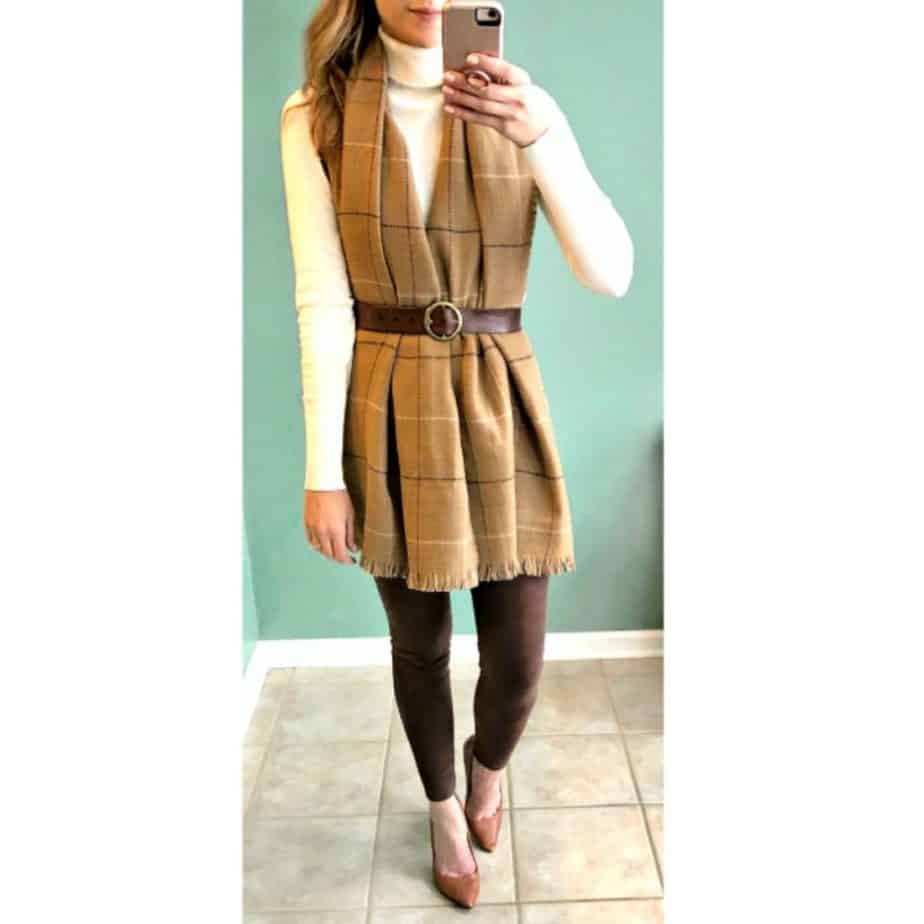 A pumpkin spice latte almost begs to have a vest paired with it. If you don't have a vest to incorporate into your fall fashion, make one out of your blanket scarf! To achieve this look, unfold your scarf and drape it over your shoulders, similar to how you would a shawl. Next, take a skinny belt and wrap it around your waist on top of the scarf. Skinny belts create the illusion that your scarf is a vest and allows you to create lots of new looks with one single item. 
A Drape Over Your Neck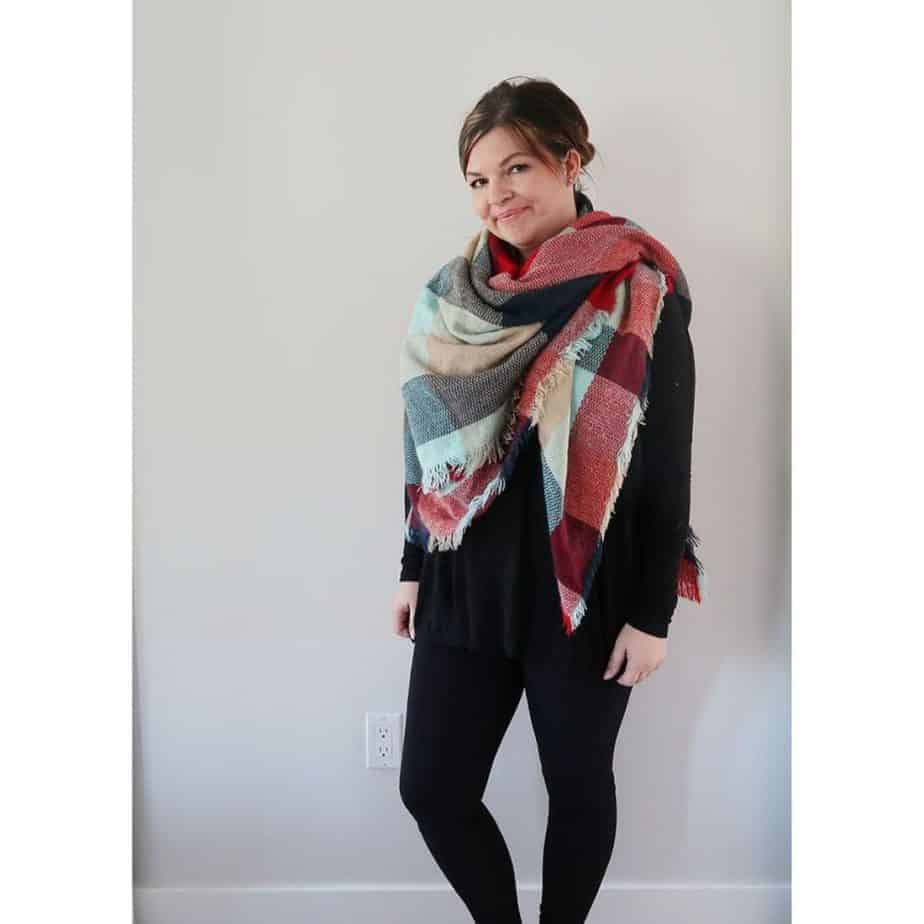 Although there are a lot of cute outfits you can create with the versatile oversized blanket scarf, a classic way to add a little something extra is just by draping it over the back of your neck. No need to tie intricate knots or wrap it around your neck too many times — a simple scarf over your shoulders and neck gives your outfit a little something extra. 
A Toss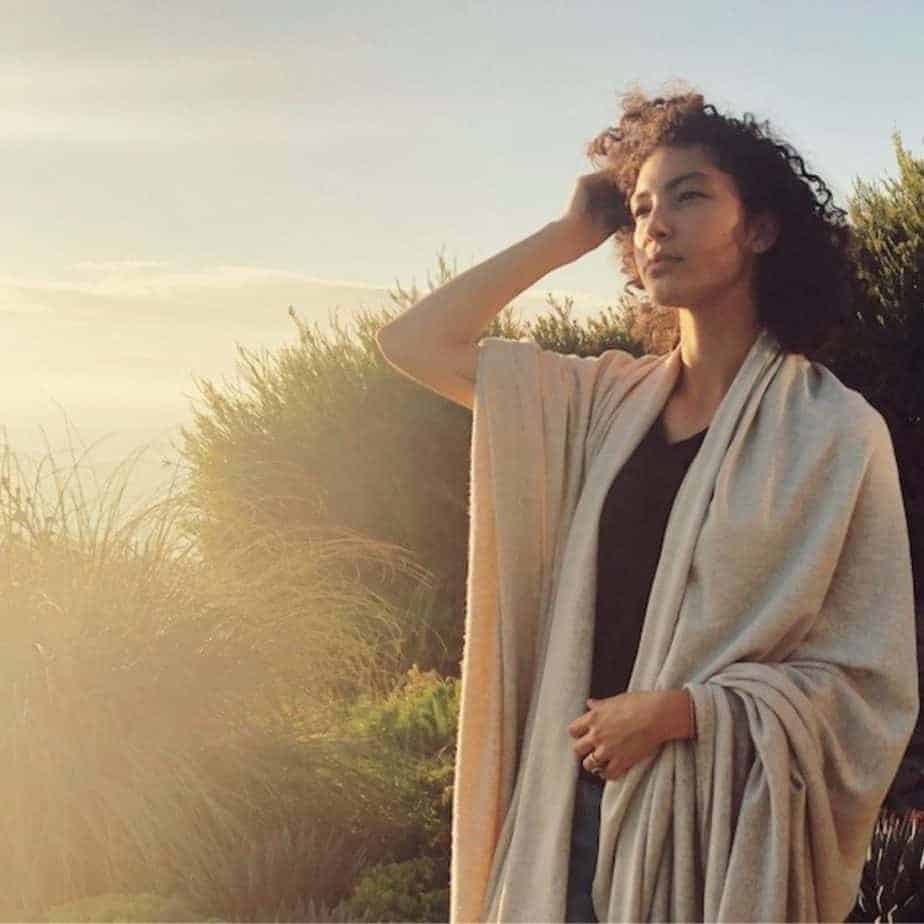 A surefire way to make your fall and winter outfits look more cosmopolitan stylish is the simple over-the-shoulder toss. I like this look when I'm wearing a long coat or jacket because it creates a nice layered look without having to put too much effort in. I like to stick with a neutral color jacket or coat so I can add a pop of color or pattern with the scarf. 
A Poncho 
This is another great way to make your blanket scarf serve as outerwear instead of just being purely an accessory. The great thing about a blanket scarf is that you can make these changes to your daily outfits while you're out and about. Wearing your scarf as a scarf but want to switch it over to a poncho? Go for it! Unfold your blanket scarf, fold it in half again, and then wrap it around your shoulders for a little extra warmth.
A Kerchief 
Start by unfolding your scarf and then folding it into a triangle long ways until you have two long ends. Keeping the downward-facing triangle in the front of your body, criss-cross the two ends behind your neck and pull them on either side until you reach your desired look. 
A Cardigan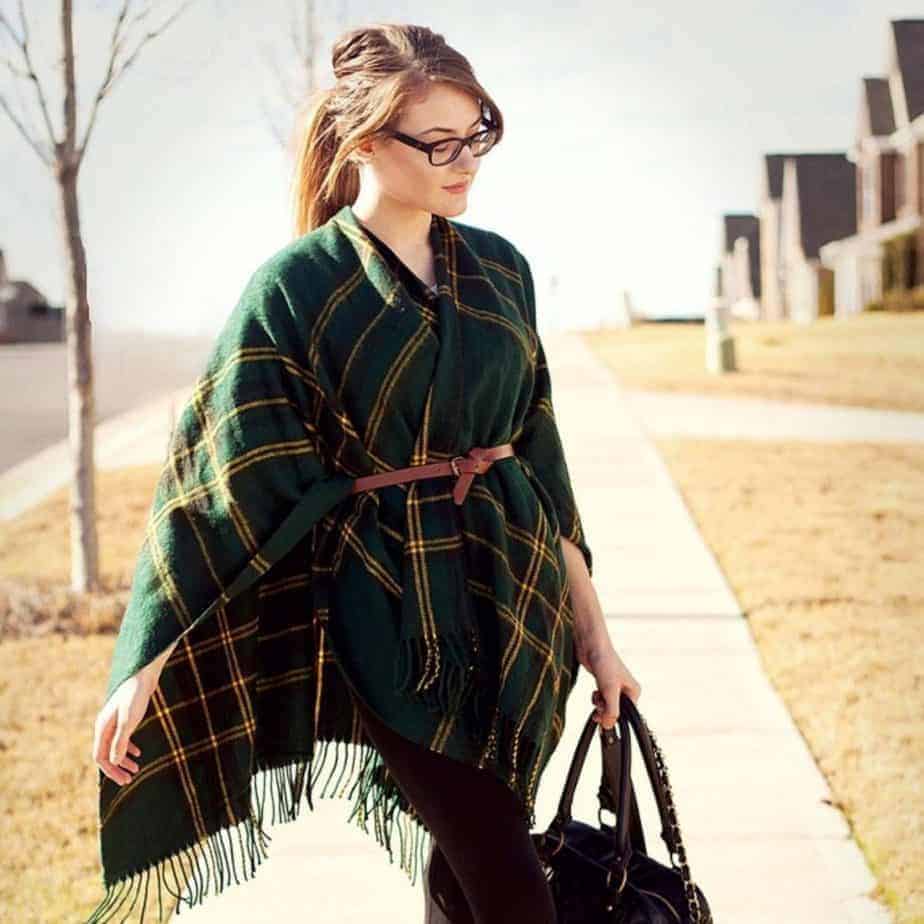 Last but not least, we have the cardigan look. This is another style that will require some kind of skinny belt to help keep the blanket scarf in place. Unlike the poncho look, I recommend unfolding your blanket scarf completely here. Once it resembles an actual blanket, wrap it around yourself, making sure that you have room to move your arms. Then, tie the belt around the outside of the scarf. This will create distinct armholes and give you a cute and casual look. 
FAQ: How to Wear a Blanket Scarf
Blanket scarves can be intimidating because they are for sure big scarves, but once you have a few ideas of how you can wear them, they'll become your new favorite accessory!
How big is a blanket scarf?
A standard blanket scarf is about 50 square inches, but I just like to think of a blanket scarf as an oversized scarf. Some are so large that they actually could function as a blanket if you needed them to, which makes me feel extra cozy but might not be necessary. 
How do you wear a blanket scarf? 
If you've looked at a blanket scarf before and not known what the heck to do with it, you're not alone. Luckily, you now have this guide to help give you a few different ideas of how you can wear your blanket scarf. There is also tons of content on this topic online, including videos and tutorials if you need even more ideas. 
Are scarves still in style? 
Blanket scarves seemed to reach the height of their popularity in the early 2010s, but you'll still see plenty of people wearing them on the street when the weather starts to get cold again. Although I like to get inspiration from trends, I tend to wear whatever makes me feel comfortable and cute, and you should too!
I hope you enjoyed this post on how to wear a blanket scarf. If you did, please share it on your social media!